Sportz-Vibe Blanket with Extra Panel Kit & Four Full Ice-Vibe Boots
This bundled set included the Sportz-Vibe blanket with an extra panel kit and TWO pairs of full Ice-Vibe boots! Bundled together you save $469.99!!!

Sportz-Vibe has 4 removable massage panels that work alternately on either side of your horse's back to stimulate circulation. Sportz-Vibe has two treatment settings, automatically switches off after twenty minutes and can be used up to 3 times a day.
The Sportz-Vibe massage rug is breathable, adjustable for horses of different builds and, once the panels and rechargeable batteries are removed, it is machine washable. It comes with massage panels, a universal charger and a rechargeable battery which lasts up to three hours and includes an in built battery level indicator. Detachable hood included.

The ICE-VIBE boots are rechargeable vibrating boots that help to boost circulation in horse's legs by creating a massage effect. They combine the effects off cooling and massage therapy to effectively treat strains, ligament and tendon damage. The massage effect helps to stimulate the lymph system to remove soreness and swelling as well as improving circulation. Everyday wear and tear on joints can be managed with daily use of the boots and rehabilitation through injury can be achieved more effectively.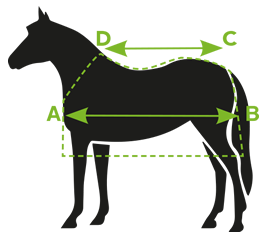 Blanket Sizing Guide


A - B C - D inches all dimensions are in CM S 160 - 175110 - 125 5'3 - 5'9 M 180 - 198 130 - 145 6'0 - 6'6 L 206 - 221 150 - 165 6'9 - 7'3